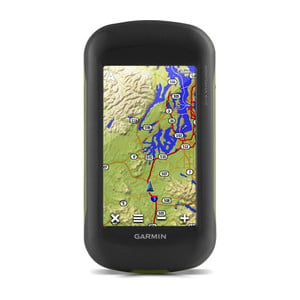 Yes, that's right, that Putin: Vladimir Putin, President of Russia. Whatever else you may think of him, we have him to thank for the modernization of the GLONASS satellite system, which, working in tandem with GPS, can provide faster location fixes than GPS alone.
If you're thinking, "Wait a minute, I don't want to use no dang Russian satellite location system. Murica!!" you might want to look down at your phone, because you're probably already using it.
And hey, he rides mountain bikes. So he's one of us!
The politics of geolocation aside, Garmin's Montana units are now GLONASS capable, which means, as I said above, they can get faster fixes on their location, which is great news. Anyone who has ever stood with an arm held to the heavens and a dumb look on their face as they wait for their device to talk to space knows that faster fixes will certainly be welcome.
If you're a geocacher, Garmin has extra good news for you:
The new Montana 600 series units make paperless geocaching easier than ever. Each device comes preloaded with the locations of 250,000 geocaches from Geocaching.com.
There are four new units: the 610, 610t, 680, and 680t. The "t" designates models that come with preloaded TOPO U.S. 100K maps. All the models have a 4-inch touchscreen, but the 680 and 680T add an 8mp camera, too.
As for price, here's what Garmin have to say:
Available in fall 2015, the Montana 610 will have a suggested retail price of $499.99; the 610t Camo will have a suggested retail price of $549.99; the 680 will have a suggested retail price of $549.99 and the 680t will have a suggested retail price of $599.99.
Check out the full Montana line here in Garmin's shop.
---
Related articles