Over the summer, Chris Daniels wrote an excellent article covering pretty much everything mountain bikers should know about chain lube. If you missed it, I highly recommend giving it a read!
We also asked our readers to weigh in on their favorite lubes for mountain bikes, and in looking over the data, we found some interesting insights.
Wet vs. Dry
I really wish we had asked folks where they live to see if there is a correlation with trail conditions and their choice of lube type, because there should be a close relationship if people are choosing lube correctly. Still, it's interesting to note that mountain bikers are pretty evenly split between wet lubes and dry lubes. (If you're not sure what a hybrid lube is, you didn't read Chris's article yet. Do it.)
Popular Greases and Bike Wash Products
While we didn't specifically ask for readers' grease and bike wash preferences, dozens of readers chimed in with recommendations for these products. So, if you're looking for a good grease to use on your bike (please, not the chain!), it seems you can't go wrong with Phil Wood Waterproof Grease or Park Polylube 1000.
Bike wash is a product that doesn't get a lot of coverage, but it can serve the vital function of cleaning and keeping your frame protected from gunk and mud, making future cleaning even easier. Based on our survey, White Lightning Wash & Shine stands out as the top choice for washing and waxing mountain bike frames.
Most Popular Mountain Bike Lube Brands
The list of the most popular individual mountain bike lubes (up next) doesn't tell the whole story, since some brands have more extensive lines than others. So, we added up all the mentions by brand, and here is how the brands stacked up.
White Lightning
Finish Line
Rock "N" Roll
Tri-Flow
ProGold
Pedro's
Muc-Off
WD-40
Boeshield
Park Tool
Most Popular Mountain Bike Lubes
#1: ProGold ProLink Chain Lube
ProGold says their ProLink chain lube "does not build up or become tacky" and it "sheds dirt, mud, and abrasives." The company packages the lube in a number of different ways, from drip bottles to aerosol sprays and even an applicator pen.
#2: Rock "N" Roll Gold Lube

Rock "N" Roll Gold Lube falls somewhere between a wet and dry lube, and it's one of the company's newest (and, they might add, more expensive) offerings.
#3: Rock "N" Roll Extreme Lube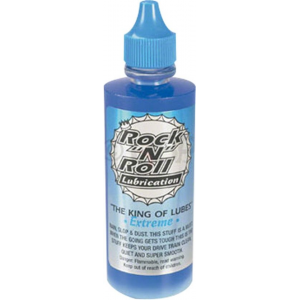 Extreme Lube from Rock "N" Roll is designed for mountain biking and is well suited to wet conditions.
#4: White Lightning Clean Ride

Who doesn't like the sound of a clean ride? This wax-based dry lube from White Lightning is designed to shed while you ride.
White Lightning Epic Ride lube is the prototypical hybrid lube, and was even awarded a patent back in 1999. As with other hybrid lubes, Epic Ride seeks to blend the advantages of both wet and dry lubes.
As you can tell from the name, Finish Line Dry Teflon is a dry lube, but unlike others on this list, it uses Teflon fluoropolymer instead of wax to create a dry finish.
With a name like Boeshield T-9, it has to be good, right? This hybrid lube is designed for both wet and dry conditions.
Tri-Flow Superior is a wet lube with a distinctive bubble gum smell that's formulated with PTFE, the same stuff used to make Gore-Tex.
White Lightning Easy is a dry, wax-based lube that's fairly similar to the company's popular Clean Ride Lube (see #4 above).
#10: Squirt Long Lasting Dry Lube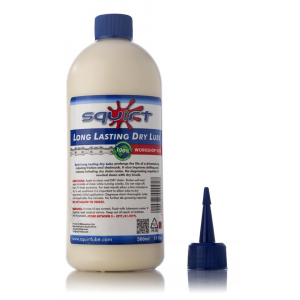 Squirt's Long Lasting Dry Lube is a wax-based lube that's designed to–you guessed it–last a long time.
Overall, competition among the top 10 (and beyond) was fairly close, demonstrating just how many great chain lube options are on the market today. And if none of these lubes are to your liking, try blending your own! In fact, a few of our survey respondents report doing just that.
Flipside question: Is there a lube you've tried that just didn't work out? What do you think went wrong?