It's been three long years, but the world's biggest mountain bike festival is back! We took a one-day tour around Whistler village to see some old faces, some new and exciting tech, and get a glimpse at some action. Below are some of the gear highlights that stood out for us.
RockShox 'Buttercup' promises to cut high-frequency fork vibrations
SRAM had their new Debonair+ assemblies on show and the small but mighty Buttercups found on the Ultimate-level forks. The Buttercups are the showstopper here. Said to significantly reduce the transfer of high frequency vibrations to the rider, it's essentially an anodized cup with a rubber damper inside. A giant tech nerd, I'm also one of the first to be skeptical about such claims.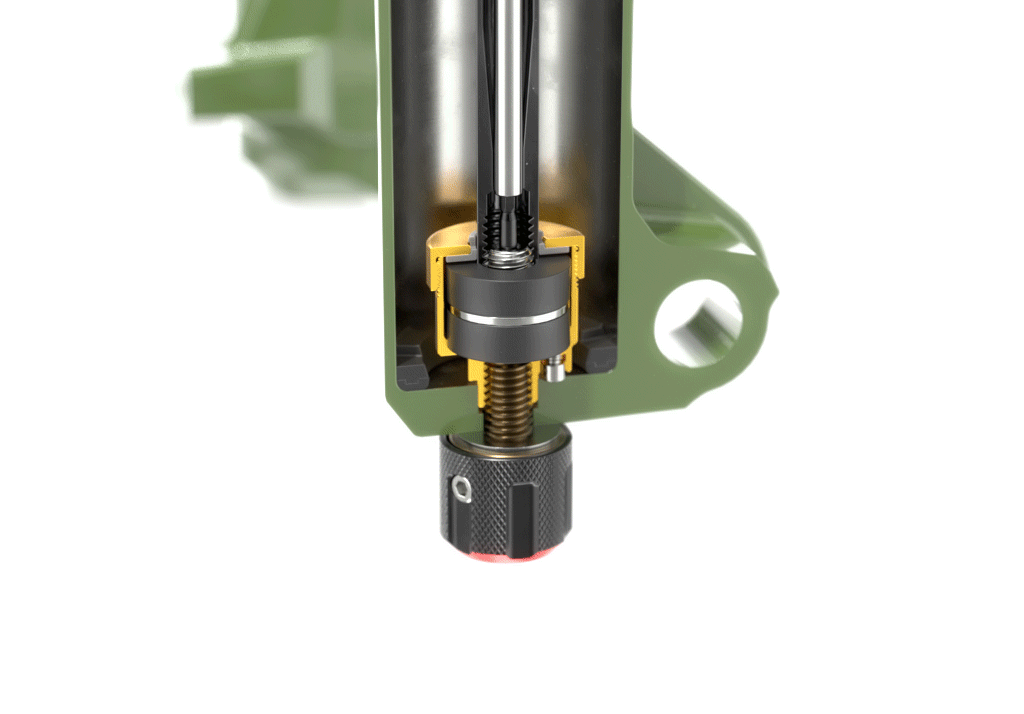 On the booth was a small platform with a vibrating motor and the uppers from two Lyrik forks, one with Buttercups installed and one without. While you could feel the vibration through the crown/steerer of the older fork, it was almost totally gone on the newer fork. Not wanting to over-hype things, it was genuinely impressive and I can't wait to get my hands on a new Lyrik for myself.
Another interesting item is the new Deluxe Select Coil. As far as I could gather it will currently only available OEM on stock builds and SRAM envisions it working well on e-bikes thanks to its smaller profile and simplicity with the only adjustment being a single rebound knob.
New Marzocchi Bomber Air shock features a diagonal piggyback, simple operation
Marzocchi had their new Bomber Air shock on display. With only air pressure, rebound, and a single compression dial with a whole range of adjustment rather than a 2-position lockout it promises functional, affordable simplicity. Plus a funky diagonal piggyback.
New Pivot Shuttle lightweight eMTB on display
This year was pretty e-bike heavy, with lots of new lightweight (and not so lightweight) e-bikes on show. With the new Pivot Shuttle SL coming in at a little over 36lb for the World Cup build, the model on show here with more BC-appropriate components tips the scales closer to 38lb.
Rocking a Fazua drive-system in a crazy-sleek package, one of the best things about the Shuttle SL has to be that it just looks like a regular bike.
YT's got the Flight Attendant
YT had a Capra with RockShox's holy grail of suspension, Flight Attendant, set up. I say holy grail because not only is it eye-wateringly expensive, it's also unbelievably exclusive right now.
Look shows full line of new MTB flat pedals
Look might be more usually associated with road cycling, but they've got a whole new lineup of flat pedals including the entry-level composite Trail Fusion, the mid-range Trail Roc, and the super sweet Trail Roc+ with a concave forged aluminum body and needle bearings.
Rocky Mountain launches technical clothing line with safety tech built in
Rocky Mountain showed the brand's first venture into their own line of technical apparel at Crankworx, including a pair of airy trail/enduro shorts and a couple of jersey options with some nice tech features
Industry Nine shows all the points of engagement
7mesh sends this jacket packing
Local company 7mesh from Squamish had some of their fall season clothing on display including some new breathable, windproof outer layers and a jacket that can pack into itself and strap onto a frame/handlebar.
That's all for now, stay tuned for part two next week.