Trail Flow is a roundup of all the mountain bike trail related news of the week including new trail builds, advocacy, and planning. Do you have trail news? Email [email protected] for possible inclusion.
MTB Skills area and pump track opens in Florida
SORBA Orlando just opened a brand new mountain bike skills pump track at Markham Woods in central Florida park. The new trailhead amenity adds to several miles of singletrack that's part of Wekiwa Springs State Park.
Crankbrothers and Velosolutions work to build pump track in Nepal
The Pump Tracks for Peace Initiative, supported by Crankbrothers and Velosolutions, just opened a brand new pump track in Kathmandu, Nepal. The project also received support from local groups including Himali Riders Club and Switchback. This YouTube video shows how the project came together.
$120K grant for Maine trails
The Moosehead Outdoor Alliance recently announced a $120K grant award to be used for trail construction in Little Moose Public Land. The group said in an Instagram post, "All this work is being coordinated with a professional trail builder and the current plan is to build 5 miles of trail in 2023 and another 5 miles in 2024. These trails will include intermediate and advanced trails, all within easy riding distance from town!"
Grand Opening workday at Wildwood Park in Alabama this weekend
The Shoals mountain bike group in Northeast Alabama is hosting a trail workday / grand opening on Saturday, March 4 from 10a-2p at Wildwood Park. The park is located in Florence, Alabama off Waterloo Rd.
Barkeaters Trail Alliance will soon seek a new executive director
The Barkeaters Trail Alliance (BETA) announced last week that executive director Josh Wilson will step down from the position later this year. Wilson plans to finish out the season while "the BETA board of directors conducts a search process to find the organization's next long-term leader."
BETA noted in a press release that under Wilson's tenure the club tripled its membership base, established a paid, seasonal trail crew, and built sustainable bike trails all over the region.
New trail flow opens near Birmingham
A new trail flow has opened up near Birmingham, Alabama thanks to the Birmingham Urban Mountain Pedalers (BUMP). The trail, named Tails, is all about flow and jump. BUMP utilized grants from Shelby County and the Fox Factory Trail Trust to cover the total project cost of $43,000. It was designed by Barry Smith Trail Designs. Tails adds a new option to the other flow trail in the area, Lightning. The trail is about a half-mile in length with close to 200 feet in elevation drop.
MTB trail approved for Brentwood, Tennessee
The Brentwood, Tennessee city commission unanimously voted to approved a new mountain bike trail in Smith Park. Trail advocates are now onto the next stage of the process: finding volunteers and getting to work. Two sections of trail should make for about seven miles total of mountain bike trail at Smith Park.
Leeming completes 5-day Antarctic fat bike expedition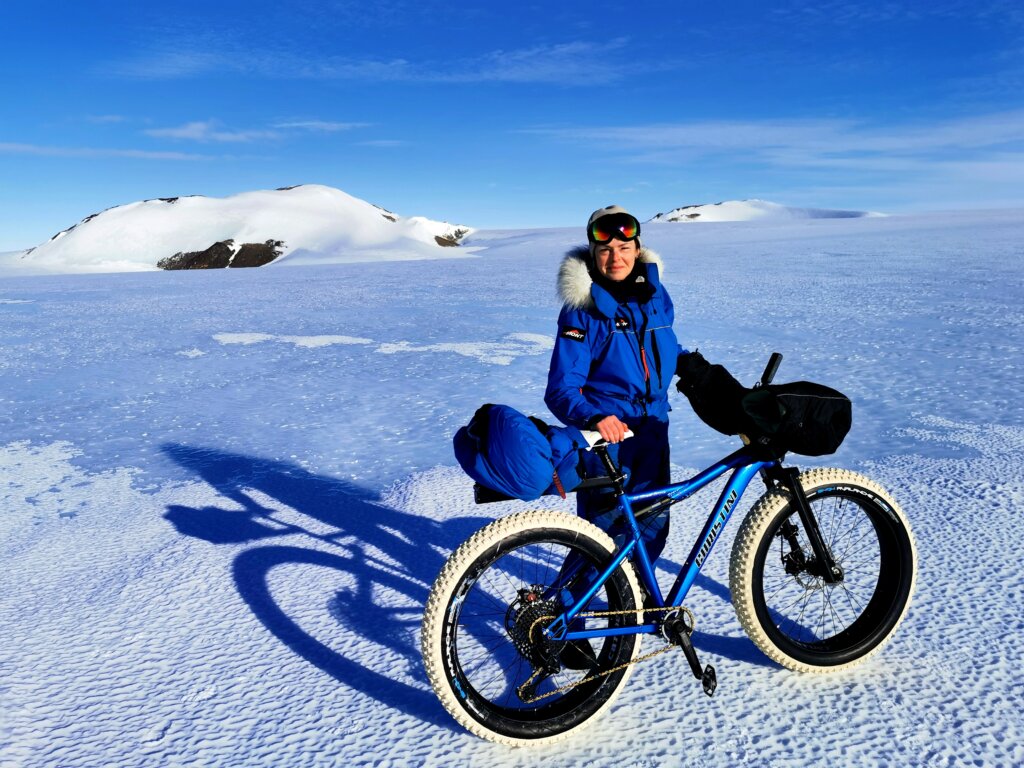 Adventurer Kate Leeming recently completed a 201km trek from Wolf's Fang Camp to Whichaway Camp in Antarctica. The five-day trip was designed to prepare Leeming for her Breaking the Cycle South Pole expedition which seeks to cross the continent via the South Pole by bicycle.
---
Related articles
More information